Lewiston's Choice Neighborhood Initiative is a $30 million federal funding investment in Lewiston, with a focus on the Tree Streets neighborhood. This funding begins implementation of the City's Growing Our Tree Streets Transformation Plan.
Lewiston is the smallest city ever to receive $30 million Choice Initiative funding. This is the result of the hard work and tenacity Lewiston is known for. Choice funding has strengthened neighborhoods in cities far larger than Lewiston. Here in Lewiston, the impact of this investment is transformational for a city our size.
To read more about these investments, visit our housing, people, and neighborhood investment pages.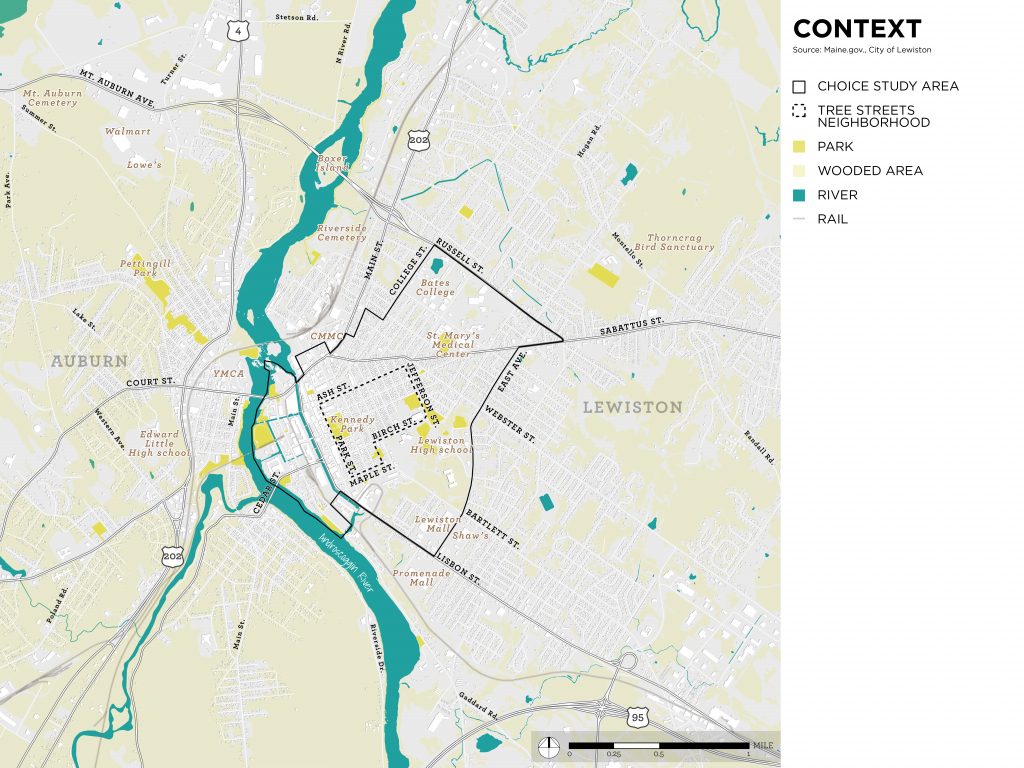 Investing in Lewiston's future
Choice Initiative, combined with other funding sources, will invest in Tree Streets housing, people, and neighborhood. These investments will:
– Build and restore safe, quality and lead-free homes all neighbors can afford.
– Increase job training and career planning so people can earn a living wage.
– Support people starting and growing their own businesses.
– Increase quality childcare options to meet family needs.
– Improve education opportunities and increase academic performance of local youth.
– Expand healthcare access for people and families.
– Increase local access to nutritious, affordable food.
– Create fun, safe places for youth and neighbors to play and gather outside.
– Build safer neighborhoods together.
From Plan to Action
Lewiston received this grant following nearly a decade of hard work and a shared commitment to our entire city. Residents, City staff, and community partners' work accelerated in the last two years to build the foundation for this initiative: the Growing Our Tree Streets Transformation Plan. This plan is our guidebook. It is our community's vision. Choice supports locally-led, strategic investments; it is the funding that will spark this transformation and strengthen Lewiston.
The Choice Initiative refers to the combined work of the Choice Planning Grant, the Growing Our Tree Streets Transformation Plan, and the Choice Neighborhood Implementation Grant.
The image to the right demonstrates how these efforts relate to one another.