Building and restoring quality lead-free homes Lewiston people can afford.
Choice is partially funding the design and construction of 185 new, safe, energy-efficient, mixed-income apartments Lewiston people can afford to call home. Lewiston Housing, in partnership with Avesta Housing, will lead these development efforts.
Of these 185 apartments, 92 are replacement apartments for households whose distressed or aging housing will be demolished or repurposed. The other 93 apartments will be a mix of market rate and workforce housing apartments. These high quality, larger living spaces help raise the current standard of available housing in the Tree Streets neighborhood.
Choice funds will also increase opportunities for Tree Street residents to save for and afford first-time home purchases through the Choice Housing Opportunity Fund.
Additionally, leveraging Choice Initiative funding, Lewiston offers assistance to property owners interested in making improvements to their properties to create safe, affordable, code-compliant housing for low-income residents.
Choice funding will move us closer to Lewiston's goal of replacing or rehabilitating 700 lead-tainted housing sites each year for the next 24 years. The ultimate goal is "Lead-Free in 2043."
Why invest in housing?
Choice funding will replace some of the distressed housing that has challenged Lewiston for years. Choice is encouraging more investment to rebuild and replace more distressed housing, helping to re-establish Lewiston's reputation as a desirable city where people want to live.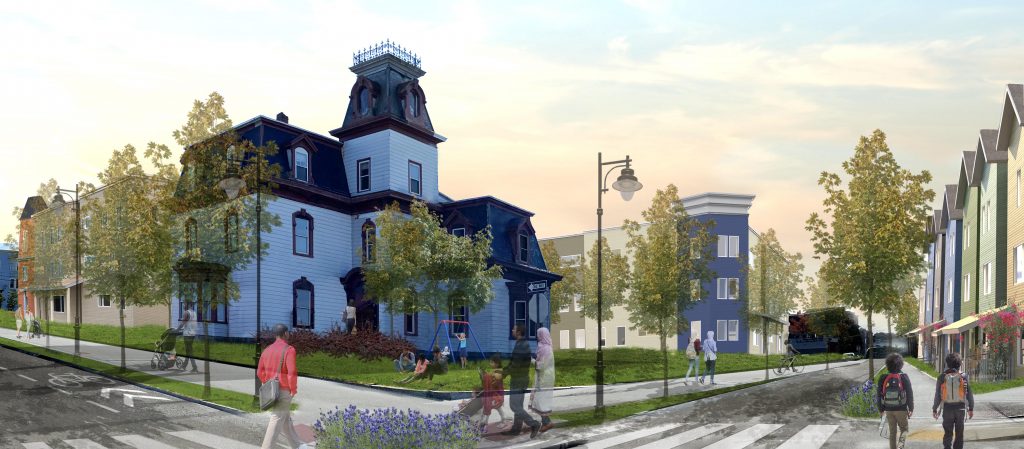 Lewiston's old, neglected housing stock has high levels of lead paint – and is a significant public health risk to residents, particularly young children. Forty percent of Lewiston's children live in downtown Lewiston. Lewiston, and specifically the Tree Streets, has the highest rate of childhood lead poisoning in Maine. The majority of the Tree Street neighborhood housing stock requires lead remediation or replacement.
Over 95% of Tree Street households are renters. Half of these renters live in distressed housing with absentee owners. New home ownership opportunities offer a sense of pride of place. It provides incentive to residents to put down roots and invest in their community and themselves. It also offers a pathway to economic mobility and sparks a sense of community control and responsibility.
Choice Initiative Developments

The developments listed below will replace 92 subsidized housing units at Maple Knoll, Lafayette Park, and several smaller scattered affordable properties. In addition those replacement apartments, Lewiston Housing and Avesta will build an additional 93 workforce and market rate apartments throughout these sites.
Wedgewood
Wedgewood will be located on Pine Street where the focus is on redeveloping the block surrounded by Pine, Pierce, Walnut and Bartlett Streets. This development will include 74 units in 8 buildings. This lower density development will be a mix of historic rehabilitation of the Wedgewood House, townhouse style buildings, and apartments.
These buildings will contain a mix of one-, two-, three- and four-bedroom units.
To be notified of when Lewiston Housing will begin taking applications for Wedgewood, please complete the interest list form.
Dewitt
Dewitt will be located on Pine Street across from Kennedy Park. This replacement site will contain two buildings with a total of 71 one- and two-bedroom units. The first floor of each building will offer commercial space for retail or office space.
An anchor tenant for one building will be a community food center offering healthy, affordable food as well as workforce development and entrepreneurship opportunities.
To be notified of when Lewiston Housing will begin taking applications for Dewitt, please complete the interest list form.
100 Ash Street
This development, which is yet to be named, will include two buildings providing a total of 40 units. The buildings will provide one-, two- and three-bedroom units.
If you would like to be notified of when Lewiston Housing will begin taking applications for Phase 3, please complete the interest list form.
*all housing renderings are preliminary sketches and are subject to change.