News & Stories
SENATOR COLLINS, SENATOR KING & GOVERNOR MILLS CELEBRATE LEWISTON'S FIRST CHOICE NEIGHBORHOOD INITIATIVE AFFORDABLE HOUSING DEVELOPMENT GROUNDBREAKING
in: Press Release on: 07/25/2023
FOR IMMEDIATE RELEASE: JULY 24, 2023
CONTACT:
Cara Courchesne, Upstream Strategies; 207-577-4676
Angelynne Amores, Director of Marketing & Communications, City of Lewiston; 207-449-2274
SENATOR COLLINS, SENATOR KING & GOVERNOR MILLS CELEBRATE
LEWISTON'S FIRST CHOICE NEIGHBORHOOD INITIATIVE
AFFORDABLE HOUSING DEVELOPMENT GROUNDBREAKING
LEWISTON: Senator Susan Collins, Senator Angus King, and Governor Janet Mills today joined the City of Lewiston, Lewiston Housing, and the Tree Streets Neighborhood community to break ground at Lewiston's first Choice Neighborhood Initiative affordable housing development, Wedgewood.
The Wedgewood development, named for the historic Wedgewood House, will feature 82 rental homes in nine buildings on Pierce, Pine, and Bartlett Streets. Wedgewood is the first development built in Lewiston using federal funding from the U.S. Department of Housing and Urban Development's Choice Neighborhoods grant program. Lewiston is the smallest city ever to receive $30 million in Choice Neighborhoods funding, which was awarded in 2020. The City of Lewiston and Lewiston Housing are co-grantees for the grant. This funding will result in over $100 million in additional investment throughout the Tree Streets Neighborhood.
"As a leader on the Appropriations Committee, including as Vice Chair, I have championed Lewiston's grant application and spoke with HUD leaders about the monumental impact the project will have on the health, safety, and overall well being of Mainers," said Senator Susan Collins. "The combined focus of this project on housing, people, and community will greatly improve the Tree Streets Neighborhood and the lives of the families that call it home."
"Communities across our state are facing a serious shortage of affordable housing. It is simply too hard for families to find places to live that fit their budgets," said Senator Angus King. "The Wedgewood development is a significant investment in housing that will provide homes for dozens of Lewiston families while boosting the local economy. Though there's no easy solution to our affordable housing challenges, today's groundbreaking shows that with effective federal and local partnerships, we can make real progress for Maine people. We're proud to be at this event and to see firsthand the immense, positive impact of the federal Choice Neighborhoods grant program in our state."
"The City of Lewiston means so much to me. It's where I married my late husband, Stan, and where I lived and worked for many years as District Attorney. I know firsthand that it's a wonderful, vibrant community with so much to offer its residents," said Governor Janet Mills. "Today's groundbreaking strengthens that reputation and will help ensure that more people who want to call Lewiston home are able to find a safe, affordable place to live in the community they love. I am grateful to Maine's Congressional Delegation and the many local partners who made today possible. Combined with our historic investments at the State level, we will continue to make progress on our housing shortage and strengthen communities like Lewiston statewide."
Wedgewood's apartments will be located throughout eight new, low-density buildings and in the historic rehabilitation of Wedgewood House, located at 101 Pine Street. Wedgewood is slated to be a mixed-income development with 60 affordable units and 22 market rate units.
Lewiston Housing is partnering with Avesta Housing to develop Wedgewood, and has contracted with Hebert Construction for the development's construction, which officials anticipate will take approximately two years.
Funding for Wedgewood, the total cost of which is approximately $50 million, includes support and/or financing from:
U.S. Department of Housing & Urban Development
City of Lewiston
Evernorth
Federal Home Loan Bank of Boston
Genesis Community Loan Fund
John T. Gorman Foundation
MaineHousing
Norway Savings Bank
"MaineHousing is pleased to play our part in bringing these important new housing resources to the Lewiston community," said MaineHousing Director Daniel Brennan. "This groundbreaking is the latest in a series of important investments in a city that plays a vital role in Maine's economy, culture and identity. Support for these important housing investments are also a real testament to our federal leaders and the city's visionary local leaders and advocates, who have repeatedly stood up and embraced innovative ways to make housing happen by saying, "Yes. Build it here in Lewiston!"
"We are thrilled to commence construction on a housing development that will soon introduce 82 quality homes to the Lewiston community," said Chris Kilmurry, Executive Director of Lewiston Housing. "Wedgewood will provide much needed affordable and market rate rental housing in the heart of the city. This endeavor underscores our commitment to fostering a vibrant, diverse, and inclusive Lewiston, and sets the benchmark for future housing developments in the region."
The site is designed to support lower density, family-oriented housing in the heart of the Tree Streets Neighborhood. The development will include a mix of one, two, three, and four bedroom units. The design of the development is based on the resident-led planning process for the Choice Neighborhoods grant, which resulted in the Growing Our Tree Streets Transformation Plan.

"Lewiston is a community full of people with such strength and tenacity," said Misty Parker, Assistant Director of Economic and Community Development at the City of Lewiston. "That came through in the planning process and shines through today. People here care and share in the hard work and collective vision to strengthen the Tree Streets Neighborhood and our city as a place of pride and prosperity. This development is the result of a community-wide effort with community-wide impact."
"I proudly call this neighborhood home," said Ashley Medina, President of Healthy Neighborhoods and Tree Streets Neighborhood resident. "These achievements would not have been possible without the power of community. The process has brought our community together for genuine and honest conversations about what we love about our neighborhood, and also what we wanted to see change. We are driving positive change for our neighborhood and Lewiston's entire community."
While housing is a key component of the Choice Neighborhood's $30 million federal funding investment in Lewiston, there are additional Choice-funded and Choice-inspired efforts underway. With a focus on Lewiston's Tree Streets Neighborhood, Choice funding and local investments will:
Build and restore safe, quality and lead-free homes all neighbors can afford.
Increase job training and career planning so people can earn a living wage.
Support people starting and growing their own businesses.
Increase quality child care options to meet family needs.
Improve education opportunities and increase academic performance of local youth.
Expand healthcare access for people and families.
Increase local access to nutritious, affordable food.
Create fun, safe places for youth and neighbors to play and gather outside.
Build safer neighborhoods together.
Breaking ground for this historic initiative today were Senator Susan Collins, Senator Angus King, Governor Janet Mills, Principal Deputy Assistant Secretary for Public & Indian Housing Richard J. Monocchio, Lewiston Mayor Carl Sheline, Director of MaineHousing Dan Brennan, Lewiston Housing Deputy Executive Director Travis Heynen, and Tree Streets Neighborhood Resident & School Committee Member Ashley Medina all of whom joined Senator Collins, Senator King, and Governor Mills in their remarks. The groundbreaking was led by Misty Parker, Assistant Director of Economic and Community Development at the City of Lewiston.
Visit Lewiston Housing's website to learn more about Lewiston's Choice Neighborhood Initiative. Those interested can sign up here to learn when waitlists open. Please note that this is an interest list and not a waitlist. For questions regarding applying for housing at Wedgewood, please contact Lewiston Housing at choice@lewistonhousing.org or 207-705-3669.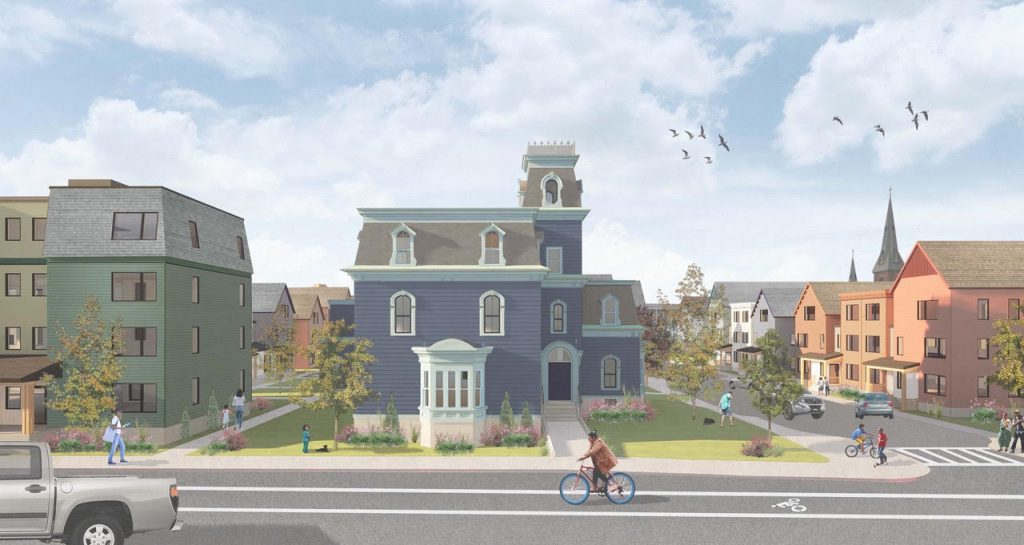 Architects' renderings of Wedgewood development courtesy of Kaplan Thompson Architects.
###
Go to top