News & Stories
The City of Lewiston and Lewiston Housing Authority Awarded $30 Million HUD Grant
in: Press Release on: 05/25/2021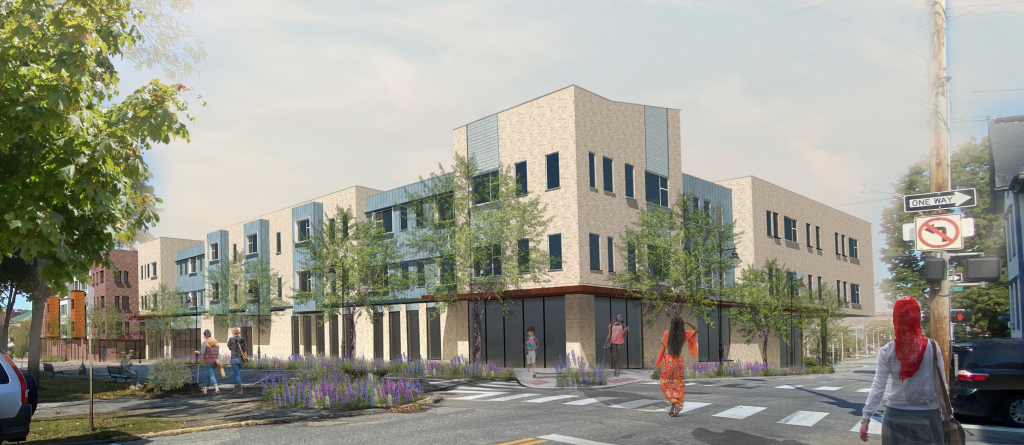 The grant will be used to revitalize Lewiston's "Tree Streets" neighborhoods; Lewiston is the smallest city in America to receive the grant.
LEWISTON, Maine (May 25, 2021) – The City of Lewiston and the Lewiston Housing Authority have been awarded a $30 million U.S. Department of Housing and Urban Development Choice Neighborhoods Initiative grant. The grant will be used to revitalize the Tree Streets neighborhood of Downtown Lewiston through the City's "Growing our Tree Streets" transformation plan.
The Choice Neighborhoods Initiative program leverages public and private dollars to support locally driven strategies that address struggling neighborhoods with distressed public or HUD-assisted housing. Lewiston is the smallest city yet to have received the grant, traditionally awarded to major metro areas. The city was a finalist for the grant along with Detroit, Cleveland, Camden, N.J., and Fort Myers, Fla.
"Tree Streets" is a nickname for the neighborhood of Lewiston made of streets named after types of trees. The 30-block area was selected due to the potential for real impact in the neighborhood. The area is the most distressed part of the city with a lack of affordable lead-free housing, and high poverty and crime rates. However, it also has a number of opportunities to transform existing properties into high-quality, mixed-income housing and provide needed supports for residents.
"In a small city like ours, each dollar goes further in improving the lives of the people who live and work in our community," said Misty Parker, City Development Officer. "We estimate that our investment of the grant's $30 million will result in $100 million of private investment into the city."
The transformation plan addresses the three core goals of the Choice Neighborhoods program: homes, people, and neighborhood.
• Homes: Replace distressed public and assisted housing with high-quality mixed-income housing that is well-managed and responsive to the needs of the surrounding neighborhoods
• People: Improve outcomes of households living in the target housing related to employment and income, health, and children's education
• Neighborhood: Create the conditions necessary for public and private reinvestment in distressed neighborhoods to offer the kinds of amenities and assets, including safety, good schools, and commercial activity, that are important to families' choices about their community.
"This funding will be truly transformational for the entire city as well as its citizens and will help Lewiston achieve its vision to revitalize its downtown," said Senator Susan Collins in a statement announcing the grant. "By taking a holistic approach to housing, people, and community, this project will redevelop the Tree Streets neighborhood and provide residents with new educational and career resources to help families break cycles of poverty…"
The Growing our Tree Streets plan is the product of a $1.3 million Choice Neighborhood Planning and Action Grant that the City of Lewiston received in 2018. The five-year long planning process was a collaboration between the City of Lewiston, The Lewiston Housing Authority, Community Concepts Inc., the Healthy Neighborhood Planning Council, and community members of Lewiston.
"Our top priority while developing the plan was ensuring that this grant would be responsibly and equitably dispersed into our community." said Chris Kilmurry, Executive Director of Lewiston Housing Authority. "The Healthy Neighborhood Planning Council was invaluable in upholding that mission."
About Lewiston Housing Authority
Created in 1963, Lewiston Housing is the municipal housing authority for the City of Lewiston. We are an experienced developer of affordable housing and have used a variety of financing structures and funding sources to accomplish our goal of expanding access to quality housing for those in need. Currently, Lewiston Housing provides management, maintenance, and resident services for 493 units of Public Housing, LIHTC, and market rate housing, and administers approximately 1200 Housing Choice vouchers.
About Lewiston, Maine
Lewiston, Maine, is a growing city full of possibility, delivering affordable, accessible and abundant untapped opportunity. Founded on a fiercely blue-collar ethos from an industrial past that carries through the present culture, Lewiston offers all the potential of a vibrant city balanced by a strong, hometown sense of community.
Go to top