News & Stories
Lewiston Choice Neighborhood Initiative Selects Hebert Construction for First Phase of Tree Streets Transformation
in: Press Release on: 02/03/2022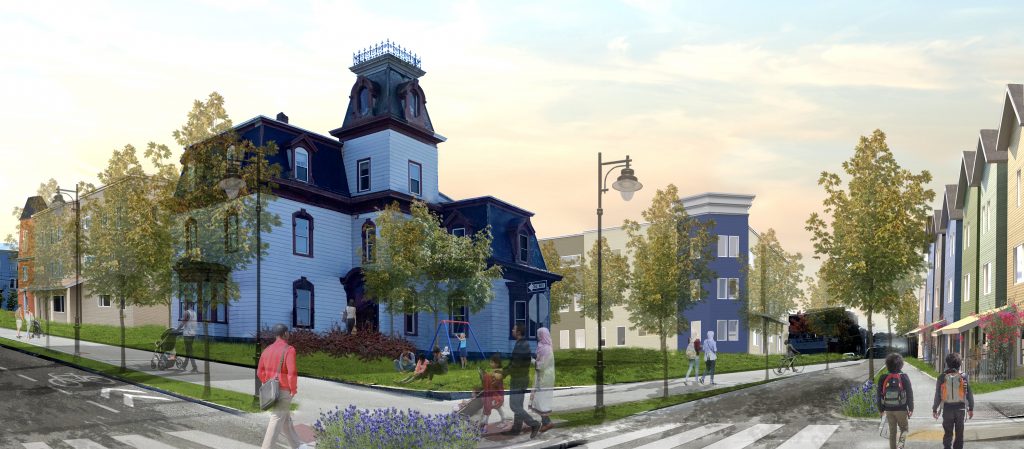 FOR IMMEDIATE RELEASE
February 3, 2022
Contact: Cara Courchesne; 207-577-4676
LEWISTON CHOICE NEIGHBORHOOD INITIATIVE SELECTS HEBERT CONSTRUCTION FOR FIRST PHASE OF TREE STREETS TRANSFORMATION
Today Lewiston Housing and Avesta Housing announced that they selected Lewiston-based contractor Hebert Construction to oversee the construction of Wedgewood, Lewiston's first Choice Neighborhood Initiative housing development.
The selection was based on a competitive process that began in November and wrapped up late last week.
"We're excited to move this work forward," said Chris Kilmurry, executive director of Lewiston Housing. "Hebert's commitment to workforce development, their Lewiston roots, and their understanding of the Growing Our Tree Streets Transformation Plan, our roadmap for this work, makes them a great contractor for this development."
Wedgewood will be the first development supported by Lewiston's $30 million Choice Implementation Grant and is tentatively scheduled to break ground late this year. The site is comprised of over a dozen parcels on Pierce, Pine, Bartlett, and Walnut Streets in Lewiston's Tree Streets neighborhood. It will consist of 8 buildings with a total of 74 units, including the historic rehabilitation of the Wedgewood House.
The development's overall cost is expected to be $25 – $30 million. Late last year, MaineHousing allocated federal low-income housing tax credits to Lewiston Housing and Avesta Housing, which provided key financing for the development.
"We are thrilled that Hebert Construction will be managing this phase of construction," said Misty Parker, assistant director of Economic and Community Development at the City of Lewiston. "Over the past few years Hebert's experience has brought quality housing development, historic preservation, and vibrant community buildings to the neighborhood, all with attention to recruiting and training local workers. They are truly a partner to Lewiston in strengthening our local economy and the Tree Streets neighborhood."
"Hebert Construction is honored to be selected by the Lewiston Choice Neighborhood Initiative and join this development's already great team," said Michael Hebert, owner and managing member of Hebert Construction. "We are eager for the opportunity to contribute to the continued development and growth of Lewiston's Tree Streets neighborhood. Lewiston is fortunate to have a strong network of skilled craftsmen and trades people. We are committed to collaborating and engaging with people and organizations in our hometown to ensure this development is a successful one."
Choice funding, the catalyst for Tree Streets transformation, is already creating significant investment in Lewiston and providing real and meaningful opportunities for the people who live in the Tree Streets neighborhood. The Lewiston Choice Neighborhood Initiative will include several additional investments: two more phases of multifamily housing development, expanding access to urgently needed childcare, improving access to behavioral health and dental care, investing in education and job training, providing support for youth, and increasing safety in Lewiston's downtown.
Lewiston is the smallest city to be awarded both the U.S. Department of Housing and Urban Development's Choice Planning Grant and the $30 million Choice Implementation Grant.
###
An updated rendering of the site is attached.
Cara Courchesne, she/her
Upstream Strategies
207-577-4676
Go to top